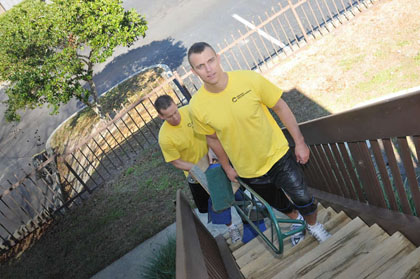 SAME OR NEXT DAY DELIVERY, GREAT CUSTOMER CARE AND NO-NONSENSE PRICING
Milestone Relocation Solutions Inc. (southeast-region, FL) was established by 2 individuals who have had moving business for over a decade with a total combined moving business experience of over 27 years.
We've seen people suffering from dishonest and shady moving companies; we've noticed moving is one of the most stressful experiences in individual's life; we also believe moving has to be viewed as something exciting, as a beginning of something new and good; and here's our solution to that: Milestone Relocation Solutions.
Our company follows 3 very simple steps serving customers moving from Southeast region anywhere in the US:
$199
Moving Special
888.650.1846 Call Now!
1. SAME OR NEXT DAY DELIVERY
Instead of picking up your belongings, bringing them to a storage and then combining your shipment with other items going the same direction as most other moving companies do, we employ a different approach: come to your residence, load everything into the truck, go to your new location and unload it there as quickly as possible. This is a feature which is loved by our customers the most: (a) you will receive your items in 1-3 days, depending on destination point, as opposed to 7-21 days which is standard with other movers; (b) the chances of damages to your items are reduced to the minimum, since there is no transloading involved, and (c) there is virtually no chance of misplacing/losing any of your belongings.
2. GREAT CUSTOMER CARE
We are commited to providing excellent overall moving experience to our customers. We have highly knowledgeable moving consultants to answer all your questions before your move; dispatchers that are available on your move day; and in case something goes wrong, we will always be here to address any issues that may have appeared.
3. NO-NONSENSE PRICING: KNOW THE EXACT PRICE BEFORE YOUR MOVE STARTS
You want an honest, straight forward and simple moving pricing. We promise you will get exactly what you are looking for: all charges will be clearly outlined during your conversation with our moving consultant before your move, and we will not nickel and dime you for many items that other moving companies are notorious upcharging for: shrink wrap, bubble wrap, flights of stairs, weekends or after hours charges, etc.
Give us a call at 888.650.1846 to receive your absolutely free no obligation consultation now!