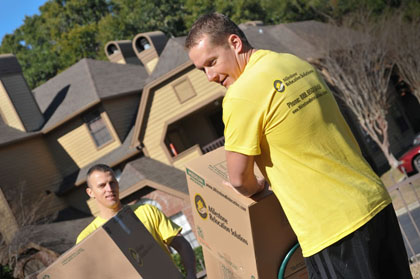 FREQUENTLY ASKED QUESTIONS
Q: What areas do you serve?
A: We serve customers with moves originating in the following states: Georgia, Virginia, Alabama, North Carolina, South Carolina, Mississippi and Tennessee.
Q: Do you do local moves in these states?
A: Yes and No: although we do serve several areas in these states for local moves (such as Raleigh and Charlotte in North Carolina & Atlanta, GA), we concentrate on long distance/interstate moves from any point in these states.
Q: Do you do interstate/long distance moves?
A: YES. We specialize in moving households from any point in the states of GA, VA, MS, NC, SC, AL and TN.
Q: Where can you move me?
A: We can move you to any point in the continental US.
$199
Moving Special
888.650.1846 Call Now!
Q: Are you insured?
A: YES. Standard insurance ($0.60 per pound) is included in every price and there is no additional charge for it.
Q: Do you use day labor?
A: NEVER. All our crews consist of trained, professional and uniformed employees.
Q: Are your prices competitive?
A: YES. Our pricing is extremely competitive among insured movers, especially having in mind the quality of services we provide.
Q: How much will I save with Milestone Relocation Solutions?
A: On average, our customers are able to enjoy 10-30% savings compared to other companies with similar level of services.
Q: Will I know my exact price before I commit to use Milestone Relocation?
A: ABSOLUTELY. You will be given a fixed guaranteed price for your move which will not change during or after your move.
Q: How long does it take to get an estimate, and what do I have to do?
A: Simply call us at 888.650.1846. It usually takes around 10 minutes to provide you with an accurate fixed price!