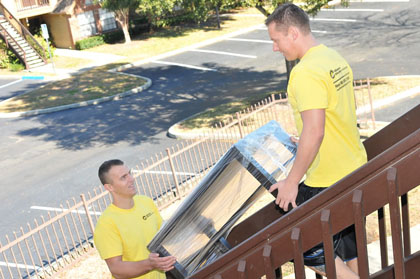 COMPETITIVE PRICES FOR LONG DISTANCE/INTERSTATE MOVES FROM SOUTHEAST REGION
It is impossible to tell right now how much it will cost you to move: each long distance/interstate move is unique and individual. However, we can say this right from the bat: the price you will be given will not change before, during or after the move. Period.
You have couple different options when it comes to your relocation: (a) pack your smaller items yourself ("box things up"), or (b) let us pack your belongings. Either way, we ask to leave furniture (tables, sofas, chairs and similar items) for our professional packers to take care of: furniture packing is included in any package and there's no additional cost for it to you.
$199
Moving Special
888.650.1846 Call Now!
Usually it takes around 10 minutes to gather the required information from you to provide you with a flat guaranteed price. Call us at 888.650.1846 to get your free no obligation moving estimate now. Our knowledgeable moving consultants will be more than glad to provide you with a quote, as well as answer all the questions you may have.
Milestone Relocation Announces $199 Moving Special

$199 Moving Special includes 2 professional movers with a moving truck, all the professional equipment and labor for up to 2 hours.

Milestone Is to Create 40-90 Jobs in 2011

January 04, 2011 -- Milestone Relocation Solutions, a national household goods moving company, announced today of its plans to hire between 20 and 30 new crews in the states of Florida, Georgia and Washington DC in 2011.

Milestone Relocation Solutions Launches a New Website

February 02, 2011 – Milestone Relocation Solutions™, a national household goods moving company, launches a new updated website, which is easier to navigate and allows moving customers to find relevant information quicker and easier.

Get $50 Back Once the Move Is Completed

Once your move is completed and you are fully satisfied with our service, make sure you receive your $50 back!

We are commited to providing excellent overall moving experience to our customers. We have highly knowledgeable moving consultants to answer all your questions before your move; dispatchers that are available on your move day; and in case something goes wrong, we will always be here to address any issues that may have appeared.