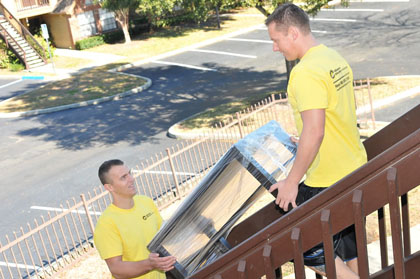 AFFORDABLE, NO-NONSENSE MOVING PRICING IN ATLANTA
We developed a pricing structure that is as clear and simple as possible: You will not be nickeled and dimed for truck, mileage, shrink wrap, tape, moving blankets or other supplies to move your furniture safely and efficiently.
Moving Doesn't Get Any Simpler Than That: NEW REDUCED PRICES
It's a perfect time to move: We just slashed our prices.
You can choose between our regular reduced hourly rates or take advantage of $199 Small-Move Special* - it's totally up to you!
$199
Small Moves
404.492.6889 Call Now!
No matter which option you pick, you will get same top-notch all-inclusive moving service people expect from Milestone Relocation Solutions:
2, 3 or 4 men crew's labor
Truck and mileage
Dissasembling/reassembling of your furniture
Packing supplies for your furniture, such as shrink wrap, blankets and tape
Insurance
Clock starts once we start working at your place, and ends once we unload the last item at your new place
You are getting your money's worth: Last hour is prorated in 10-minute increments.
Call 404.492.6889 to save on your upcoming move today!
*Subject to availability. Based on travel distance, a low one-time gas fee may apply.
NEW: Guaranteed Flat Rate

Have peace of mind knowing the exact cost of your move before it even starts!

Milestone Will Match Competitors' Price

They can't beat our service, but we will beat their price!

CALL 404.492.6889 NOW for best moving deals in Atlanta metro.

Milestone Is to Create 40-90 Jobs in 2011

January 04, 2011 -- Milestone Relocation Solutions, a national household goods moving company, announced today of its plans to hire between 20 and 30 new crews in the states of Florida, Georgia and Washington DC in 2011.

Milestone Relocation Solutions Launches a New Website

February 02, 2011 – Milestone Relocation Solutions™, a national household goods moving company, launches a new updated website, which is easier to navigate and allows moving customers to find relevant information quicker and easier.

We are commited to providing excellent overall moving experience to our customers. We have highly knowledgeable moving consultants to answer all your questions before your move; dispatchers that are available on your move day; and in case something goes wrong, we will always be here to address any issues that may have appeared.