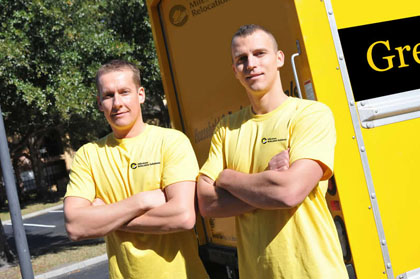 PROFESSIONAL MOVING SERVICE, GREAT CUSTOMER CARE AND NO-NONSENSE PRICING
We know you don't have much time: you have a move waiting for you. That's why we will make your choice easy.
10 Reasons to Hire Milestone Relocation Solutions for your NY move
1 96 out of 100 people who used Milestone Relocation for their NY move would recommend us to their friends & family.
2 Since we receive most of our customers through referrals, we are able to pass the savings from advertising onto you, our customer.
3 Competitive pricing: Craigslist advertisers are not our competitors, and we are sure you do not want just anyone to handle your personal belongings. And we are 100% sure that our pricing is very competitive compared to other reputable moving companies.
$199
Moving Special
718.414.6903 Call Now!
4 Moving on your schedule: if you need to move at 6am, 10pm, on Christmas or Independence day - we will make it happen.
5 Moving residents of NYC for over 27 years.
6 Experienced moving crews: we do not use any day labor. All of our movers are our employees with proper training and must pass drug and criminal background check. More: in order to work with us, they are required to have a minimum of 2 years of prior moving experience.
7 Fully equiped: moving truck, dollies, shrink wrap, tape, blankets - anything that's needed to professionaly handle your belongings.
8 Insured & bonded: there is no charge for standard insurance - you do not pay a penny for that.
9 Professional & helpful staff: from your first call to the end of the move, you will be guided by our experienced relocation specialist.
10 Honest & straight forward pricing: no surprises before, during and after the move. Period. All the costs will be clearly outlined before booking the service.